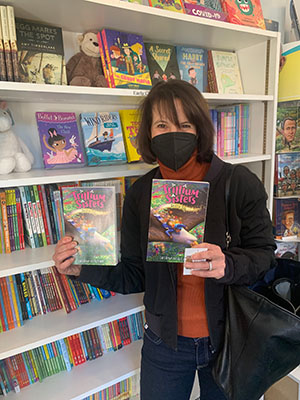 I am a writer and licensed psychologist. Having worked as both a school psychologist and private clinician, I love chatting with kids and sharing my passion for reading and writing.
I am available for school visits in person or virtually. Here are some of my popular presentations, but talks can be customized, too.
Where do story ideas come from?
Geared for first through third grades, this talk helps students generate story ideas and see themselves as writers. We'll discuss how setting, character, mood boards, and idea notebooks spark ideas and how each inspired Trillium Sisters. We'll end with questions that get kid's creative juices flowing.
Writing with a friend: How to co-write a story
Using examples from my work in television and my experience co-writing Trillium Sisters, we'll identify skills and attitudes important for collaboration. Then we'll discuss a specific game plan for co-writing with a friend. This talk is best suited for third and fourth grades.
The powers in you!
A major theme of Trillium Sisters is that we all can be the hero of our own story. Using the sisters as an example, we'll discuss each character's strengths and then reflect on our own. We'll brainstorm how to use our strengths and build new ones. This talk is best suited for small groups and can be customized for any grade, first through fourth.